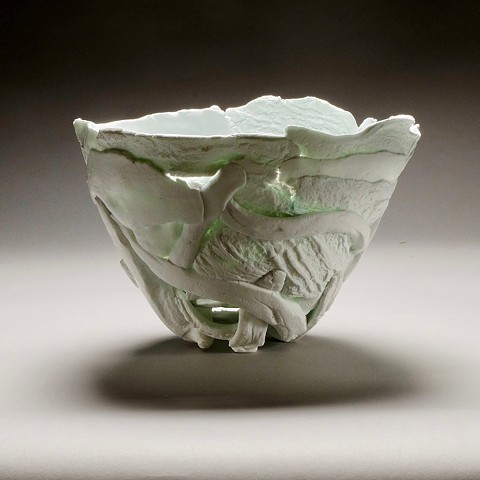 Translucent Porcelain bowl 15x15"
Hand built, fired in a support form.
Welcome to my website. I have been an artist all my life. My family are artists. In high school I realized, having no idea what a person did after 4 years of a "college education" that what I did understand was making art.
As a child I spent hours building little toothpick and thread constructions or drawing the shinny reflection on a polished boot.
So 50 years ago I was fortunate to go to art school with supportive teachers, Rudolf Staffel, Steven Green, Bob Winokur, Toshiko Takaezu, Ruth Duckworth and Vera Klement, fortunate because each taught me to play as well as learn technics with materials at the highest level.
After receiving an MFA degree from the University of Chicago, Chicago Il. I taught the ceramic and drawing program at Oakton Community College, DesPlaines, Il. for 35 years. Since retiring from teaching I've developed an extremely translucent clay and continued to draw and paint when traveling with my wife Cynthia. The subjects of recent paintings are of our garden, the Chicago Botanic Garden, and the bluff at Fort Sheridan Park done since COVID "isolation" representing the seasons summer through winter 2021. Welcome.
My work has always involved touch and feel. Only smell is more basic. The paintings and porcelain are romantic and evocative of specific places. Paintings are of places I know well, where I live or study when my wife and I travel. Translucent porcelain evokes the light illuminating coral and shells from above when we scuba dive.
Technical background:
I developed the translucent clay to hand build or wheel turn forms that are drawings in light and shade. The material uses very little clay, it is mostly glaze ingredients and is very vitreous, which means glassy. Which also means they can deform or collapse because the high temperature verges or passes the clays ability to stand...and it folds to the ground. For some pieces, especially wide forms, I make a custom mold/support of stoneware clay and build and fire the pieces in several steps. They are fired multiple times with a light glaze fired at a lower temperature last.
Paintings are made of thick water color or acrylic on heavy weight paper or prepared birch board.